Hot Products
Blueberry Sightseeing Farm
Company Profile
About Agrinet Kotoura Co.,Ltd.
Foundation
2004
Incorporation
2013
President
Shinichiro Umano
Address
1840-1 Akasaki, Kotoura-cho, Touhaku-gun, Tottori pref, 689-2501, Japan
Principal Crop
Blueberries
Cultivation Method
Above-ground farming system (manmade soil + automatic watering with nutrient solution)
Area Under Cultivation
Outdoors, approx. 4,000 m2 greenhouse, approx. 2,000 m2
Cultivated Plants: approx. 800 New Zealand cultivars & US cultivars
Cultivated Plants
approx. 800
New Zealand cultivars & US cultivars
Permanent Planting
June 2004
Company Mark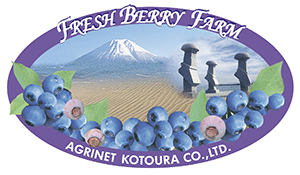 Company Profile
Year of foundation June 16, 2004
Year of incorporation January 23, 2013

History of Incorporation
Agri Kotoura (a limited company) was established on June 6, 2004, as a subsidiary to Umanokensetsu in order to develop a new field of business. Agiri Kotoura as a corporation of agricultural production started as a farming business, specifically in the cultivation of blueberries. In addition to producing and selling blueberries, Agri Kotoura promotes the development and sales of processed agricultural products. In response to the recent revision of the Agricultural Land Act, we came to a decision in which Umanokensetsu would conduct agricultural production, Agri Kotoura would continue selling highly reputable processed goods, and Agrinet Kotoura Inc. (a corporation established for the development and sales of agricultural products) would promote the planning and sales of its own produce and locally processed agricultural products.
Agrinet Kotoura Inc. acquired a license to sell alcoholic beverages in March of 2015 and started commercializing and marketing original fruit wine and shochu (a Japanese distilled beverage).
Capital
3,000,000 yen
Agrinet Kotoura's Goals
1. To offer delicious items of a grade higher than others can deliver.
* Pleasing our customers.
* Delivering goods and services with a level of honesty that makes us as well as our customers smile.

2. To focus on the importance of locally sourced vegetables, fruit, and fish.
Line of business
Wholesale, retail, and trading business
Types of products handled
Both fresh and processed fruit and vegetables
Frozen raw juice for commercial use
Tea leaves and processed tea leaves
Alcoholic beverages (including distilled spirits and wine)
Non-alcoholic beverages (including fruit juice)
Policy on raw material procurement and product development
We use agricultural, forestry, and fishery products with the producers' identities specified, and with the place of production identified for processed materials. We procure raw materials while carefully checking their quality before using them for production. We try to procure items that are free of pesticides as much as possible, and label those with a clear history of pesticide usage. We aim to develop processed products that will not use additives as much as possible, so that the original taste of the materials will not be spoiled.
Languages available
Japanese
English

Access Map
Contact information
Tel : +81-858-55-0212
Fax : +81-858-55-2912
Contact us

Products Label